Terras Ermas
Linha do Tempo
6002
NPCs Encontrados
N/A
Inimigos Recorrentes
Efreeti

Elemental Pequeno de Fogo Lodo Flamejante

Região
Norte de Grey Avalon
Nível
2
Materiais Encontrados
Lombo de Cervo

Costeleta de Javali
As Terras Ermas são uma área localizada na região norte de Grey Avalon. Foi mostrada pela primeira vez no Episódio 7 - Um Mundo Quebrado.
Características Gerais
Edit
Localizada na parte norte de Grey Avalon, esses vastos campos compostos por pedras negras e rios de fogo e lava nas áreas mais críticas, afastam os aventureiros mais espertos que querem preservar suas vidas. A vida não floresce aqui, e tudo o que pode ser encontrado é destruição natural, fogo, e os mistérios mais antigos que o mundo tem para esconder.
As Terras Ermas abrigam uma quantidade imensa de sub-regiões, cidades destruidas/abandonadas, impérios subterrâneos, cavernas de acesso para o plano inferior da terra entre outros.
Lendas dizem que essa é a terra natal dos dragões vermelhos, mas até então, quase nenhum foi visto. Ou mesmo se foi, quem viu não viveu o suficiente para contar o que aconteceu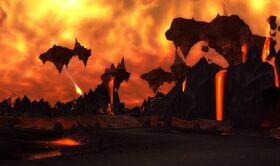 depois ou onde eles estão.
Ad blocker interference detected!
Wikia is a free-to-use site that makes money from advertising. We have a modified experience for viewers using ad blockers

Wikia is not accessible if you've made further modifications. Remove the custom ad blocker rule(s) and the page will load as expected.