RK-9000
Arquétipo
?
Afiliação
?
Linha do Tempo
6000
Raça
Droid
Nível médio
?
Loots
Medalha (RK-9000)
Local
Caverna em Elysium
"Justiça sabor chumbo!"
―RK-9000
"O GRANDE E ORGULHOSO MODELO RK-9000!"
―RK-9000
 RK-9000 é dos robôs lendários criados há muito tempo. possívelmente o mais fraco entre eles, possui, ainda assim, uma terrível força.
A série RK
são um modelo totalmente diferente de robôs de guerra, possuindo uma inteligência quase humano e um único ponto fraco muito específico, diferente em cada modelo. O ponto fraco foi uma maneira do seu criador impedilas caso tentassem dominar o mundo.
Habilidades:
Edit
Capaz de alternar entre modos de batalha, sendo o primeiro parecido com uma criatura quadrúpede e o segundo com uma criatura bípede.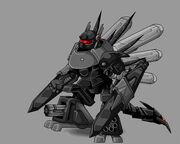 Possui metralhadoras e lança misseis embutidos, lâminas nos braços e a capacidade de se mover muito velozmente.
Pode autodestruir-se quando deixado sem opções de luta.
Com uma blindagem extremamente reforçada e com reflexos absurdos, a maioria dos ataques se provam inuteis contra ele.
Ponto Fraco:
Edit
Um duto que passa debaixo do ombro, semelhante à uma artéria, depois de atingido nesse ponto, RK-9000 acaba se enfraquecendo ao ponto de quase não poder se defender.
Ad blocker interference detected!
Wikia is a free-to-use site that makes money from advertising. We have a modified experience for viewers using ad blockers

Wikia is not accessible if you've made further modifications. Remove the custom ad blocker rule(s) and the page will load as expected.