Protótipo Beta-27
Jogador
Gustavo Henrique
Arquétipo
Monge
Raça
Droid
Sexo
Masculino
Idade
11
Lugar de Origem
???
Nível Atual
3
Status
Vivo
Relativos
Paprika
Protópito Beta-27 é um personagem  do Dragon Fantasy Saga RPG. Ele apareceu pela primeira vez no Arco 2.
Criado por uma organização misteriosa,o protótipo Beta-27 anda pelo mundo em busca de aventura e a razão de sua origem. Beta-27 não se lembra bem de seu passado,por isso ele é um mistério
Personalidade
Edit
Ele é maneiro e caótico e normalmente viaja sozinho,mas pode viajar em grupo se for necessário
Curiosidades
Edit
Beta-27 tem um canhão de mana que ele não usa com frequência (é aquela coisa azul ali(à propósito aquilo é chamado de Magicannon))
e sim, aquele desenho foi feito no Paint.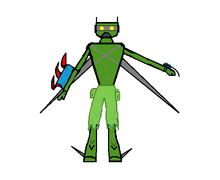 a segunda forma do Beta era para ser aquela ali,mas por causa de razões envolvendo digamos,spoilers,acabou sendo a que conhecemos hoje.
Ad blocker interference detected!
Wikia is a free-to-use site that makes money from advertising. We have a modified experience for viewers using ad blockers

Wikia is not accessible if you've made further modifications. Remove the custom ad blocker rule(s) and the page will load as expected.