Posto de Vigia Markheim
Linha do Tempo
Ano 6002
NPCs Encontrados
N/A
Inimigos Recorrentes
Templários
Região
Sul de Grey Avalon
Nível
1
Materiais Encontrados
N/A
O Posto de Vigia Markheim é um ponto situado na parte sul de Grey Avalon. Sua primeira aparição foi no Arco II, durante o episódio 3 do mesmo, como um local de parada dos aventureiros. Também teve aparição no Arco I, como local de refúgio para os heróis do mesmo descansarem depois de eventos traumatizantes. 
Características gerais
Edit
O posto de vigia Markheim leva esse nome por ter sido criado por um nobre de Feywall chamado Jeremy Markheim, que estabeleceu tal posto para a coleta de impostos e taxas que pagariam o trabalho de funcionários contratados aos arredores de Feywall, para que fosse possível uma melhor conexão entre a cidade e os lugares mais afastados.
O dinheiro, é (e foi) sumariamente usado para o estabelecimento de rotas seguras, estabelecimento de patrulhas durante o dia e a noite, e a criação de pequenas ferrovias que transportam alimentos e suprimentos para vilarejos menores, como Chama d'Oeste.
Desde então, o Posto funciona como um ponto de vigia e transição entre vilarejos pequenos e Feywall.
Construções
Edit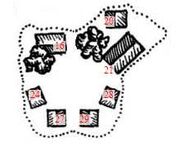 O posto conta com algumas instalações em seu interior (conforme o mapa ao lado):
- 24, 27, 29 e 28: casas nas quais recebem constantes visitas de aventureiros de diversas raças.
- 16: Armeiro (loja de armas)
- 20: Posto de Atendimento básico e primeiros socorros
- 21: Ponto de acesso para o outro lado do posto
Ad blocker interference detected!
Wikia is a free-to-use site that makes money from advertising. We have a modified experience for viewers using ad blockers

Wikia is not accessible if you've made further modifications. Remove the custom ad blocker rule(s) and the page will load as expected.