Pégasos são criaturas míticas que apareceram pela primeira vez no
Dragon Fantasy Saga RPG
em
Grey Avalon
no
Episódio 7 - Um Mundo Quebrado
. São cavalos alados, conhecidos apenas por lendas e histórias, tendo surgido primeiramente na mitologia grega.
O mito conta que o Pégaso nasceu do corpo da medusa, quando esta foi morta por Perseu. No momento de seu nascimento, voou para o monte Olimpo, onde se colocou a serviço de Zeus.
Belerofonte montou o pégaso para derrotar a Quimera e as Amazonas, tendo a ajuda de Atena para domá-lo.
Aparição no episódio
Edit
No decorrer do sétimo episódio de Grey Avalon, o druida Gamil convocou um grupo de seis pégasos para servir como meio de locomoção para os hérois que decidissem ir para o norte, em direção às Terras Ermas.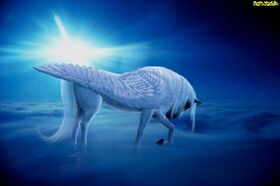 Cada um dos personagens monta um pégaso, à exceção de
Kouryuu
, que preferia achar outro meio de viajar, e então levantam voo rumo ao norte.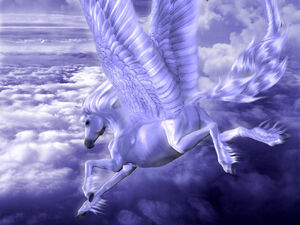 Ad blocker interference detected!
Wikia is a free-to-use site that makes money from advertising. We have a modified experience for viewers using ad blockers

Wikia is not accessible if you've made further modifications. Remove the custom ad blocker rule(s) and the page will load as expected.