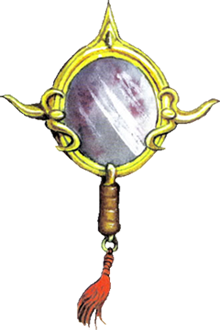 O espelho de Hathor é uma relíquia egícipa encontrada há 6 anos atrás pelo governo de
Velen
durante obras de uma das catedrais centrais da cidade. Lendas dizem que o espelho foi dado à uma rainha egípcia pela própria deusa da beleza, amor e maternidade: Hathor, para que ela pudesse ampliar seus feitos e bênçãos para todo o Egito. 
O espelho tem um mecanismo misterioso em seu reflexo que aumenta em 1000x a força de qualquer energia mágica ou energia pura jogada contra ele. Os eventuais efeitos da energia também são ampliados. Essa relíquia tem sido usada atualmente em Velen para distribuição e ampliação de energia elétrica para todos os locais da cidade, além de ser um constante objeto de estudo para melhorias e novas formas de uso do artefato. A relíquia permitiu um grande desenvolvimento para Velen, uma vez que forneceu tanta energia que os investimentos do governo nessa área basicamente cessaram ao ponto de poderem investir em outra área: na tecnologia. Justamente por isso, Velen se tornou uma cidade tão desenvolvida.
Localizado no coração de Velen, na Jakob Tower o espelho foi roubado por forças especiais de  Reddstar e até o momento sua localização é uma incógnita.
Ad blocker interference detected!
Wikia is a free-to-use site that makes money from advertising. We have a modified experience for viewers using ad blockers

Wikia is not accessible if you've made further modifications. Remove the custom ad blocker rule(s) and the page will load as expected.