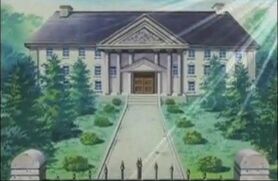 Uma enorme mansão cercada de seguranças e que abriga a família de
Tar
. Seu proprietário atual parece ser
Kaiser
, um empresário da ramo de bebidas muito poderoso e tio do garoto, junto com a mãe de Tar que sofre Alzheimer.
A mansão é de tamanho respeitável, com um enorme jardim ao redor e muito bem protegida por seguranças e cães de guarda.
Não se sabe as reais intenções de Kaiser em relação a Tar, mas sabe-se que luxo é o que não falta na propriedade ricamente enfeitada.
Na sua frente há agora uma estátua de Tar feita por Raddos para que não se esquesse dos amigos.
Ad blocker interference detected!
Wikia is a free-to-use site that makes money from advertising. We have a modified experience for viewers using ad blockers

Wikia is not accessible if you've made further modifications. Remove the custom ad blocker rule(s) and the page will load as expected.