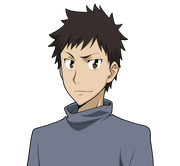 Lure é um dos heróis do Dragon Fantasy Saga RPG, do cenário Neo-Japão. Sua aparição inicial é no Arco I - "Seja você mesmo". Sua conexão com o mundo real é representada por Jean .
Aparência
Edit
1,75m de altura,cabelo preto e curto, olhos castanhos.Usa uma camisa sem manga e uma calça jeans.
Personalidade
Edit
Geralmente muito sério,calado e vagamente distraído, raramente brinca ou faz piadas com seus companheiros. As pessoas acham que ele tem autismo.
Garoto que presenciou o pai sendo morto por sua própria mãe por pura ganância, treinado junto com seu irmão pelo seu Avô Paterno, pretende encontrar a mãe e se vingar.
Ad blocker interference detected!
Wikia is a free-to-use site that makes money from advertising. We have a modified experience for viewers using ad blockers

Wikia is not accessible if you've made further modifications. Remove the custom ad blocker rule(s) and the page will load as expected.