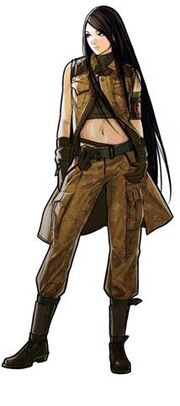 Karen trabalha para o Instituto Sagas, na sede do Rio de Janeiro. Postura militar , séria e rigorosa com as regras. Não gosta de ser desobedecida ou de quando contestam sua autoridade. Seu objetivo atual é ajudar a concretizar os objetivos do Dr. Sagas, cujo propósito ainda é obscuro. Na prática, ela procura por pessoas pelo mundo cujos alteregos possuem grande potencial. Aparentemente a ideia é criar uma espécie de exército de super soldados.
Seu passado ainda não foi divulgado durante a aventura.
Sua primeira aparição foi no "Episódio 1: Rio de Janeiro" de Neo-Japão, onde lá, ela entrou em contato diretamente com Leonardo e Muscário, 2 universitários aparentemente normais.  Porém ela os faz descobrir que possuem talentos especiais ocultos e então os convence a ir até o Instituto Sagas. Lá, ela os faz sentar numa máquina que os faz viver as memórias de seus alteregos.  
Ela não entrou em contato com Jean, Kadmiel e Eban, mas é sabido que ela tem pleno conhecimento deles.
Nenhuma informação ainda.
Ad blocker interference detected!
Wikia is a free-to-use site that makes money from advertising. We have a modified experience for viewers using ad blockers

Wikia is not accessible if you've made further modifications. Remove the custom ad blocker rule(s) and the page will load as expected.