Hotel Casablanca
Linha do Tempo
Ano 6000
NPCs Encontrados
Prefeito Hopkins (visto pela primeira vez)
Inimigos Recorrentes
N/A
Região
Central Velen
Nível
1
Materiais Encontrados
N/A
O Hotel Casablanca é um importante e luxuoso hotel 5 estrelas localizado no centro de Velen. Ele apareceu pela primeira vez no episódio 15 quando os heróis do Arco I chegaram na cidade após a Guerra Imperial.
Ambientação
Edit
O local é relativamente luxuoso, contendo grandes quartos com suítes e muitos objetos valiosos a dispor daqueles que se hospedam ali. O hotel também conta com refeições diárias (e café da manhã) gratuito para todos os hóspedes. 
É tido como um dos melhores lugares para se hospedar e para morar, em Velen. A diária chega a custar quase 2250 moedas de ouro.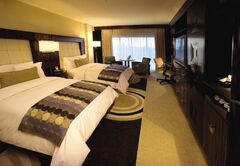 Ad blocker interference detected!
Wikia is a free-to-use site that makes money from advertising. We have a modified experience for viewers using ad blockers

Wikia is not accessible if you've made further modifications. Remove the custom ad blocker rule(s) and the page will load as expected.