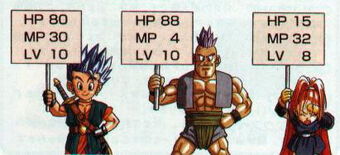 Os Health Points (Pontos de Vida) ou HP de um personagem simbolizam a saúde física e o máximo de ferimentos que o herói ou heroína pode aguentar antes de cair inconsciente ou morto..
QuantidadeEdit
Um personagem começa com 10 pontos de HP e aumenta em +2 essa quantia a cada novo nível que alcançar. Essa quantia pode ser modificada por situações especiais, habilidades, itens especiais ou vantagens / desvantagem.
Chegar a 0 de HP geralmente significa que o personagem está incapaz de continuar sua jornada ou combate, podendo morrer a qualquer momento ou só ficando inconsciente.
Ad blocker interference detected!
Wikia is a free-to-use site that makes money from advertising. We have a modified experience for viewers using ad blockers

Wikia is not accessible if you've made further modifications. Remove the custom ad blocker rule(s) and the page will load as expected.