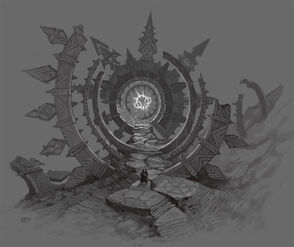 Largos arcos e anéis que são conectados através de magia arcana, também conhecido como
Gateways
, fazem parte de uma estrutura tão antiga quanto o planeta e não se sabe exatamente quem os inventou. Entretanto, é de conhecimento geral que as raças que o descobriram e passaram a utilizar e melhorá-los foram os 
anões
 e 
elfos
.
Funcionamento
Edit
Gateways funcionam como portais que conectam dois locais distantes (ou não), podendo transportar qualquer objeto, criatura ou coisa que passar pelo seu centro. O funcionamento desse mecanismo, se dá com o uso e inserção de runas específicas e especiais em seu arco central. Dependendo da combinação de runas feitas pelo usuário, o gateway pode levá-lo à um lugar totalmente diferente. 
Não se sabe muito bem como os padrões de combinações funcionam, mas existem certas runas que funcionam de forma mais harmoniosa uma com as outras. Estas runas, são geralmente gravadas por encantamentos e letras do alfabeto élfico da língua dos anões, permitindo assim uma enorme quantia de combinações para as runas inseridas.
Gateways conhecidos
Edit
Na campanha oficial do Dragon Fantasy Saga RPG, alguns gateways foram descobertos pelos heróis em certas localidades com algumas combinações de runas já feitas (e outras vazias), estas são:
Em baixo da casa dos Goldbattler - 5 espaços pra runas, sendo que 4 não podem ser alteradas.(Destinos conhecidos: Desert of Steel).
Ad blocker interference detected!
Wikia is a free-to-use site that makes money from advertising. We have a modified experience for viewers using ad blockers

Wikia is not accessible if you've made further modifications. Remove the custom ad blocker rule(s) and the page will load as expected.