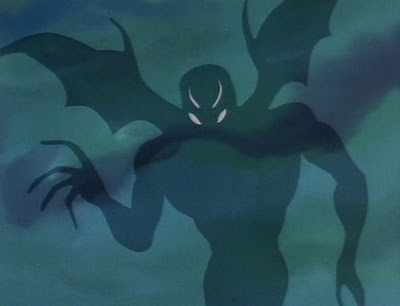 "Espírito Trapaceiro" é o nome dessas criaturas feitas de pura sombras e sentimentos malignos e negativos. Embora sejam raros, as lendas que envolvem esses espíritos sempre dizem que se disfarçam de alguma criatura ou forma humanóide e propõem uma decisão para aventureiros e viajantes que passam por perto, onde se colocam em posições favoráveis a serem ajudados, para que o viajante, sem saber os ajude a cometer um crime indireto.
O espírito se alimenta das energias provindas do corpo de quem o ajudou e dos alvos cujo sacrificou ou cometeu crimes, rapidamente sumindo de forma covarde em seguida e deixando a culpa e a angústia se instalar no coração dos enganados.
ApariçõesEdit
A primeira aparição de um espírito trapaceiro foi no episódio 5 do Arco II de Grey Avalon, que possuía um garoto caçador que havia capturado o viajante Shraik, e então esperou o grupo de heróis composto por Hilde, Lessien, Sorin, Kraashi, Bardus, Chrome e Lwynneth se aproximarem para tentar envolvê-los em seu jogo.
Ad blocker interference detected!
Wikia is a free-to-use site that makes money from advertising. We have a modified experience for viewers using ad blockers

Wikia is not accessible if you've made further modifications. Remove the custom ad blocker rule(s) and the page will load as expected.