Catedral Fulgurante
Linha do Tempo
6002
NPCs Encontrados
Arquielementalista Xeroth

Pigli

Oráculo

Inimigos Recorrentes
Iriz

Kenzo

Região
Terras Ermas

Norte de Grey Avalon

Nível
2
Materiais Encontrados
N/A
A Catedral Fulgurante é um marco localizado no norte de Grey Avalon, nas proximidades de Askhalot. Foi mostrado pela primeira vez durante o Episódio 10 - O Início da Profecia, no Arco II.
Características Gerais
Edit
Como o próprio nome revela, trata-se de uma enorme catedral. É feita com arquitetura gótica, com uma sensação de que está abandonado. Apesar disso, o lugar é muito bem cuidado. Possui uma escadaria na frente que leva para o lugar em si.
A catedral é um local importante usado por magos, elementalistas, estudantes de magia e similares como um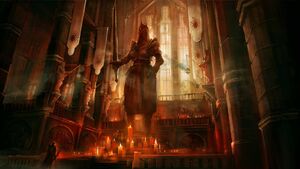 local de aprendizado para ensinamentos antigos relacionadas ao elemento fogo.
Lendas dizem que a catedral marca a fronteira para as terras inexploradas dos Dragões Vermelhos
Habitantes
Edit
A maioria das pessoas que residem na Catedral é composta por estudantes de magia. Muitas pessoas visitam o lugar com intenção de aprender os domínios do elemento fogo.
A Catedral é liderada por um Arquielementalista, tendo Xeroth atualmente ocupando o posto.
Ad blocker interference detected!
Wikia is a free-to-use site that makes money from advertising. We have a modified experience for viewers using ad blockers

Wikia is not accessible if you've made further modifications. Remove the custom ad blocker rule(s) and the page will load as expected.