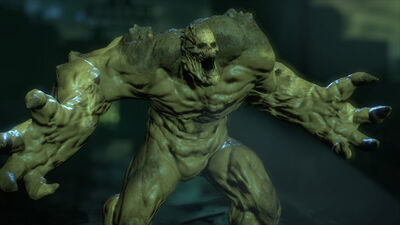 Cara-de-Barro, um golem totalmemente sem humandade cujo propósito é destruir o que se mexe. Ele foi domesticado pela Gangue Ghost, e desde então obedece ordens deles.
Sua primeira aparição foi no"Episódio 5: Estação Shinjuku" de Neo Japao onde, junto com Adiane, buscou impedir que os herois entrassem na Torre Ghost. Porém é facilmente derrotado.
Em seguida ele retorna no"Episódio 8: 1x1" , desafiando Javier. Mas este descobre a fraqueza de Cara de Barro: vibrações sonoras. Então, tocando uma guitarra em volume máximo, Javier derrota o Cara de Barro , que derrete e escorre pelo ralo.
Habilidades
Edit
Lamacento: Seu corpo pode se liquificar e pode assumir qualquer outra forma, permitindo que ele transforme seu braço numa arma cortante ou então seu próprio corpo numa grande pedra para esmagar os inimigos. 
Ad blocker interference detected!
Wikia is a free-to-use site that makes money from advertising. We have a modified experience for viewers using ad blockers

Wikia is not accessible if you've made further modifications. Remove the custom ad blocker rule(s) and the page will load as expected.