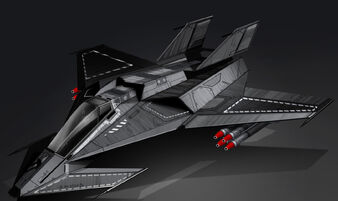 O modelo RKV2 faz referência a linha de caças stealth utilizado por empresas privadas militares e de agências com alto poder econômico para conflitos tensos que necessitam de intervenção aérea ágil e precisa. Apareceu pela primeira vez no
episódio 15
do Arco I no cenário de
Grey Avalon
, pilotado pelos irmãos
Gemini
.
Estrutura
Edit
Todas as suas funcionalidades ainda não são conhecidas, mas é notado que o caça consegue atingir velocidades de até 2.900 km/h se usado corretamente em seu potencial. 
A nave também vem de forma padrão equipada com mísseis teleguiados que são capazes de seguir alvos em grande velocidade de movimento e/ou com mecanismos anti-mísseis ultrapassados. Além disso, o caça também conta com dois canos em seu bico que funcionam como metralhadoras de alta potência embutidas na sua estrutura.
Ad blocker interference detected!
Wikia is a free-to-use site that makes money from advertising. We have a modified experience for viewers using ad blockers

Wikia is not accessible if you've made further modifications. Remove the custom ad blocker rule(s) and the page will load as expected.