Belfegor​Edit
É um inimigo que apareceu no Arco II do cenário de Grey Avalon. Aparentemente tem um desejo em matar Bardus, mas existe uma longa história entre esses dois.
Apresentação Edit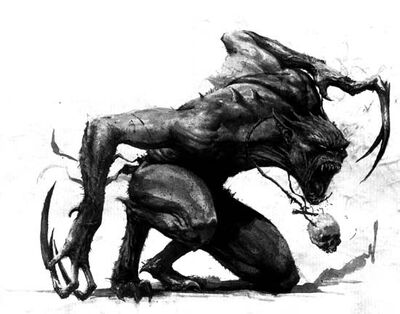 Uma fera assassina, que a muito tempo anda a solta por Grey Avalon. Considerada por muitos só uma lenda, Bardus teve a infelicidade de conhecer essa lenda diante de seus olhos.
Belfegor é uma besta que há décadas vem atormentando pequenos vilarejos e até grandes cidades, com seus poderes ocultos e se esgueirando pelas sombras cada vez mais o números de suas vítimas vem aumentando. Sabe-se que Belfegor já foi um homem cuja sua ganância por poder o levou a ruína e destruiu tudo de humano existente nele, hoje nada mais é que uma criatura sanguinária atrás de vitimas para se divertir. Em um ataque ao vilarejo nas trundas de Grey Avalon ele se depara com Bardus um jorn Ruivo no qual tiveram uma luta mas que no fim, ambos terminaram feridos e ainda vivos.
Revelações

Edit
Após muitos encontros com o Jorn Belfegor teve sua oportunidade única de lutar e acabar com todo esse jogo de gato e rato que ele vinha fazendo a anos. Mas o que ele não esperava era que Bardus estava pronto para lutar até a morte. Ambos lutaram com tudo o que tinham mas o valente guerreiro ruivo despertou o poder do Arquétipo Arauto da profecia derrotando e libertando a alma da fera, assim revelando sua verdadeira identidade Hekron o jorn.
Ad blocker interference detected!
Wikia is a free-to-use site that makes money from advertising. We have a modified experience for viewers using ad blockers

Wikia is not accessible if you've made further modifications. Remove the custom ad blocker rule(s) and the page will load as expected.