Bar de Yubaba
Linha do Tempo
?
NPCs Encontrados
Yubaba Tomoyo

Endo Daizon

Inimigos Recorrentes
Daizon
Região
Neo-Japão
Nível
?
Materiais Encontrados
Nenhum encontrado ainda.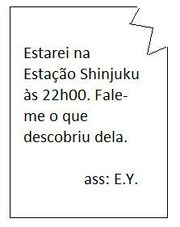 Hi
stória
Bar dirigido pela Velha Yubaba , era um bar simples, parece que Kyo já era acostumado a ir lá. Foi nesse bar que Daizon começou toda uma confusão para conseguir dinheiro da velha. Esse bar também, teve outros fatos marcantes como por exemplo, a primeira aparição dos personagens neo-japoneses do Arco I - "Seja você mesmo".
Fatos Marcantes
Edit
- Além da primeira aparição dos heróis, foi aonde tiveram a primeira luta contra Daizon.
- Encontraram ali Endo Yuji pela primeira vez.
- Foi nos fundos do bar que Javier desceu o samango na Tomoyo.
-Local em que a Velha Yubaba foi assassinada
-Local em que Javier quase foi castrado.
- Local em que mataram a Tomoyo após descobrirem que ela assassinou a velha.
-Também ali, foram salvos por Endo Yuji das assombrações( fantasmas do passado de Makom) que possuíram o corpo morto de Tomoyo.
Ad blocker interference detected!
Wikia is a free-to-use site that makes money from advertising. We have a modified experience for viewers using ad blockers

Wikia is not accessible if you've made further modifications. Remove the custom ad blocker rule(s) and the page will load as expected.