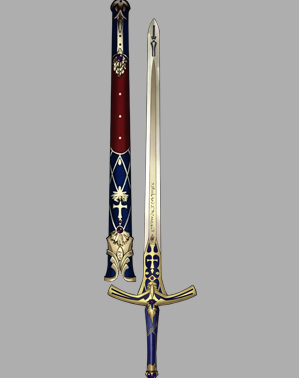 A Ashbringer é uma poderosa espada de uma mão carregada por Griffen Ravenheart. Sua lâmina e cabo possuem inúmeros detalhes dourados e inscrições que passam a impressão de que o artefato é bastante raro e único.
Características
Edit
A Ashbringer demonstra um tipo de brilho em sua lâmina toda vez que está perto de algum tipo de demônio. Além disso, toda vez que um demônio é atingido pelo artefato, ele começa a sentir uma forte de queimação desconforto geral, como visto nos eventos do primeiro episódio de Grey Avalon.
Essa espada sagrada possui a lâmina de cor dourada e prateada com seu cabo com detalhes em azul escuro e dourado. A bainha azulada e vermelha possui uma cruz e varios detalhes em dourado também. No centro da lamina a uma há uma frase escrito em uma língua bastante antiga.
Ad blocker interference detected!
Wikia is a free-to-use site that makes money from advertising. We have a modified experience for viewers using ad blockers

Wikia is not accessible if you've made further modifications. Remove the custom ad blocker rule(s) and the page will load as expected.