Armadura Vingadora:
Edit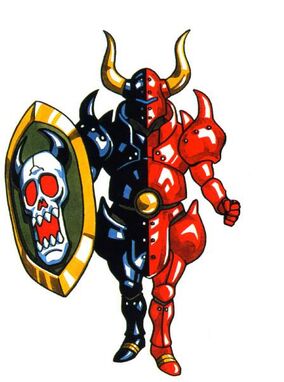 Uma armadura abandona em Elysium que possui a capacidade de voar por conta própria. Sendo na verdade um item "amaldiçoado", ela toma conta daquele que a usa, se moldando no formato do corpo da vítima. Após de "adaptar" à vítima, ela começa a desmebrar aquele que a veste se comprimindo e se esticando. Dizem que pode ser "conquistada" pelo uso da força de vontade. Uma vez conquistada, supostamente se tornaria um escudo. Infelizmente em sua única aparição, acabou sendo destruída pelos heróis.
Curiosidades:
Edit
Após ser destruída, ela se fragmentou em vários pedaços que se desfizeram no ar, liberando uma espécie de chama negra.
Aparentemente ela era formada por essa chama negra, que tudo indica na verdade ser as almas das pessoas mortas por ela.
Não se sabe se depois de "conquistada" ela continuaria "amaldiçoada".
Ad blocker interference detected!
Wikia is a free-to-use site that makes money from advertising. We have a modified experience for viewers using ad blockers

Wikia is not accessible if you've made further modifications. Remove the custom ad blocker rule(s) and the page will load as expected.