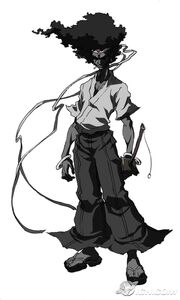 Um dark elf do cenário de Neo-Japão que aprendeu a manipular a espada japonesa e se auto-entitula samurai. Comportamento frio e calculista. Calmo na hora de tomar decisões. Afro apenas fala inglês.
Quando muitos de seus companheiros foram mortos pelos protagonistas do RPG, Afro Guy, no "Episódio 7: Afro" se prontifica a derrota-los. E, na Torre Ghost, na recepçao do andar térreo, ele desafia os herois para um confronto. 
Afro Guy é muito mais forte que os outros membros da gangue e isso foi uma surpresa para os herois. Afro revelou ser um oponente muito difícil. Graças a muito esforço, os herois o derrotaram, mas muitos desmaiaram para poder derrotá-lo. Porém os herois não conseguem matá-lo. Apenas conseguem jogá-lo numa sala. Então Makom e Javier vão investigar para ver se ele mesmo morreu, mas descobrem, já no "Episódio 8: 1x1" que Afro ainda estava vivo. Makom então luta sozinho contra ele. Javier ia ajudar, mas é surpreendido por Cara-de-Barro que aparece para ajudar Afro.
Habilidades
Edit
Domínio extraordinário da Katana: Afro conseguiu aprimorar tudo de assassino que uma katana longa tem a oferecer. Sua manipulação com a espada é excelente e ele é capaz de cortar qualquer coisa.
Demon Slash: Afro pula e desfere um golpe tão forte que a lâmina da sua espada chega a avermelhar, devido a grande velocidade e atrito com o ar. Makom quase morreu ao receber este golpe.
Ad blocker interference detected!
Wikia is a free-to-use site that makes money from advertising. We have a modified experience for viewers using ad blockers

Wikia is not accessible if you've made further modifications. Remove the custom ad blocker rule(s) and the page will load as expected.