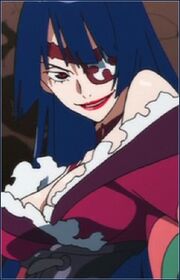 Adiane, psicopata e violenta. Uma beast cujo o principal prazer é assassinar seus alvos com seu ferrão mortal. 
Sua aparição se deu no episódio 5 de Neo-Japão. Ao lado de Cara-de-Barro, Adiane desafia os 5 herois a uma luta na estação Shinjuku. Os 2 são facilmente derrotados.
Habilidades
Edit
Ferrão Mortal: Sua cauda letal é capaz de picar um alvo e envenená-lo. o veneno leva a cabeça do infectado a explodir.
Ad blocker interference detected!
Wikia is a free-to-use site that makes money from advertising. We have a modified experience for viewers using ad blockers

Wikia is not accessible if you've made further modifications. Remove the custom ad blocker rule(s) and the page will load as expected.